ABOUT TECH-NET
TECH-NET Professional is an elite performance network where independent service facility members have a common goal of being world-class automotive service facilities. The TECH-NET Professional program provides superior customer service by combining high-quality CARQUEST Auto Parts, skilled automotive technicians and innovative consumer marketing programs.
The TECH-NET Professional Mission Statement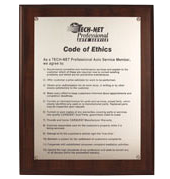 TECH-NET Professional is committed to serving you, our customer, with professional automotive repair at a reasonable cost with qualified technicians. We use quality CARQUEST Auto Parts, guaranteed coast to coast. We stand on sound business principles and uphold high ethical standards. Our goal is to make your automotive repair experience friendly and successful.
REASON TO USE TECH-NET
TECH-NET is What You've Always Wished Auto Repair Would Be:
REASON No. 1
Rapid, accurate diagnosis and repair
We do it faster and better. Our staff of specially trained technicians supports our national computer database of more than 600,000 repair records.
REASON No. 2
Affordable alternate transportation
If you need a car while yours is in our shop, we can arrange an Enterprise rental at our low rate.
REASON No. 3
Convenience
There's no need to wait around while we work on your car. We call you when the repairs are done.
REASON No. 4
Nationwide CARQUEST parts guarantee
If a CARQUEST part should fail during the manufacturer's warranty period more than 25 miles from a TECH-NET facility, the nearest CARQUEST Auto Parts Store or TECH-NET Service Center will replace it.
REASON No. 5
Commitment
We are fully committed to a service-oriented code of ethics and the employment of ASE-certified technicians.